21
October 2020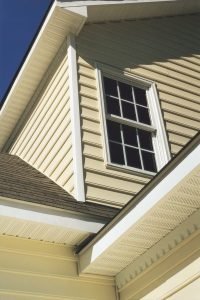 Is it time to change your siding? There are a range of indicators that a homeowner should be aware of that let you know when it's time to upgrade your home siding. When that time comes, it is essential you think about every one of your options and also are armed with the knowledge to pick the ideal home siding for your residence. Siding is the cladding around a home. Its main purpose is to secure the inside of the house and add aesthetic value. When selecting the appropriate house siding, it is very important you consider its capacity to withstand water and also moisture, the longevity of the product you choose, its convenience, as well as its resilience to sun and weather elements. This article will deal with the advantages and downsides of some of the most popular kinds of siding.
Vinyl Siding
Vinyl exterior siding is one of the most popular choices when it comes to siding. It's not only budget friendly, it also has an ROI of 77 percent. Vinyl siding has been around since the mid 1900's. It was developed to battle the down-sides of wood and rock exterior siding.
 Its advantages include:
It is one of the most cost-effective of all house siding products
It comes in a range of colors as well as designs, and can imitate timber, stone and slate
Some vinyl home sidings feature a life time guarantee
It is very easy to clean with just soap and water
It is not at risk to insect damage or rot
Vinyl siding disadvantages:
While inexpensive to purchase, it can be costly to fix
Vinyl siding can be flammable
Vinyl house siding cannot be painted over once mounted
Wood Exterior Siding
Wood house siding is also a preferred siding option.  As its name suggests, it is made from all-natural wooden slabs connected to the sides of the residence.
Wood siding benefits:
Timber exterior siding is exceptionally eco-friendly because it is made totally out of an all-natural material
It is simple to mount
It can be repainted or stained to whatever shade you like
Timber siding drawbacks:
Timber house siding is one of the most costly siding materials
It does not supply great insulation
It is highly susceptible to damage from bugs, moisture, and can therefore quickly rot.
Timber house siding needs a great deal of maintenance and upkeep
Cement Fiber House Siding
Concrete fiber siding is a very long lasting house siding comprised of sand, concrete and timber fibers. It is thicker than regular vinyl and can be shaped into a variety of structures as well as designs, such as timber grain.
Cement fiber home siding benefits:
Great energy performance because of density of material
Can be manufactured into a range of textures and also colors
Immune to water and also bugs
Non-flammable
Cement fiber exterior siding drawbacks:
Concrete fiber is normally less budget friendly than vinyl house siding, but it is additionally less costly than timber exterior siding
It can be hard to mount because of its weight, so often setup charges are greater than other products
Cement fiber house siding may require repainting every 15-20 years
Foam Backed Vinyl Exterior Siding
Foam backed vinyl siding is a more recent siding product that has a foam core backing which can be adhered to the actual home siding. Foam backed house siding is a popular option due to the fact that its foam core uses an insulation barrier preventing heat loss.
Foam backed plastic exterior siding advantages:
Excellent energy effectiveness
Can be quickly cleansed with soap and water
Decreases sound from the outside
Can be installed in several design options as well as shades
Not susceptible to damage from wetness and insects
Drawbacks:
Foam backed plastic home siding costs more than vinyl siding
It can be expensive to repair
You cannot alter the shade once it has actually been mounted
Engineered Wood/Timber Exterior Siding
Engineered wood exterior siding is one of the siding products used on the majority of contemporary homes. It is constructed from wood products that appear like wood, but is without the negative aspects of wood house siding.
Engineered timber siding advantages:
Offers the look and feel of timber
Greenest manufactured siding choice since it is made from recycled wood
Immune to pests
50 year guarantee
Engineered timber siding drawbacks:
It is not the least expensive siding choice on the marketplace
If not maintained properly, it can experience dampness associated issues
If not installed correctly, crafted wood home siding can develop moisture issues.
Keep in mind that when it comes time to replace your home's siding it is always best to consult a professional. There are so many variations, advantages and disadvantages to the many products available that a professional roofing and siding contractor will be able to advise you so you can make an informed decision.